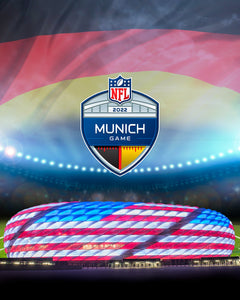 Finally: an NFL game is coming to Germany! - 2022
We NFL fans had to wait a long time, but in 2022 it will finally become reality: the NFL will play a season game in Germany.
For many years, fans have always made a pilgrimage to the NFL games in London, which was always a great short trip.
The first game in Germany will now be played in Munich in November 2022 in the Allianz Arena. So far it is only certain that the Tampa Bay Buccaneers will come to Munich with their "Goat" Tom Brady. The second team is currently still being kept secret...
Looking forward to the NFL Germany game in November?
Did you sign up for tickets?
For the tickets you have to register under the following link:
Much luck!
PS: with cool football decorations you can also prepare yourself well at home and enjoy the game day if you can't get hold of tickets...
---